"SEPTEMBER DO YOU REMEMBER"- BLACK HAIR THEN AND NOW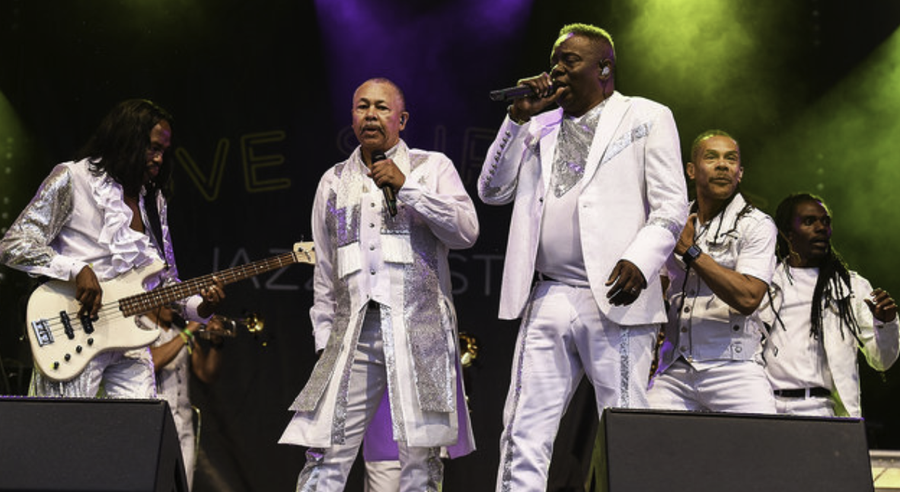 "Hey, hey, hey! Ba-dee-ya, say, do you remember? Ba-dee-ya, dancin' in September. Ba-dee-ya, never was a cloudy day." What ya'll know about that Earth, Wind, and Fire? Just kidding, how could you not know this song? It really does take us back every time. 
They've inspired us to look back at Black hairstyles from 70's to today. We are most definitely an evolving culture, but many  times we bring trends and styles back because if they were fly then, they are, for the most part, fly now! 
You know what they say -- you gotta' know where you came from to know where you're going. 
Let's take a quick walk down memory lane...
70's- The Revolution Will not be Televised
What a time to be alive! The 70's was a time of revolution.
Hair was a statement, and rockin' an afro definitely said something. It was about being who you were with no apologies. Take for instance, the rounded styles that shaped the face and brought focus to it.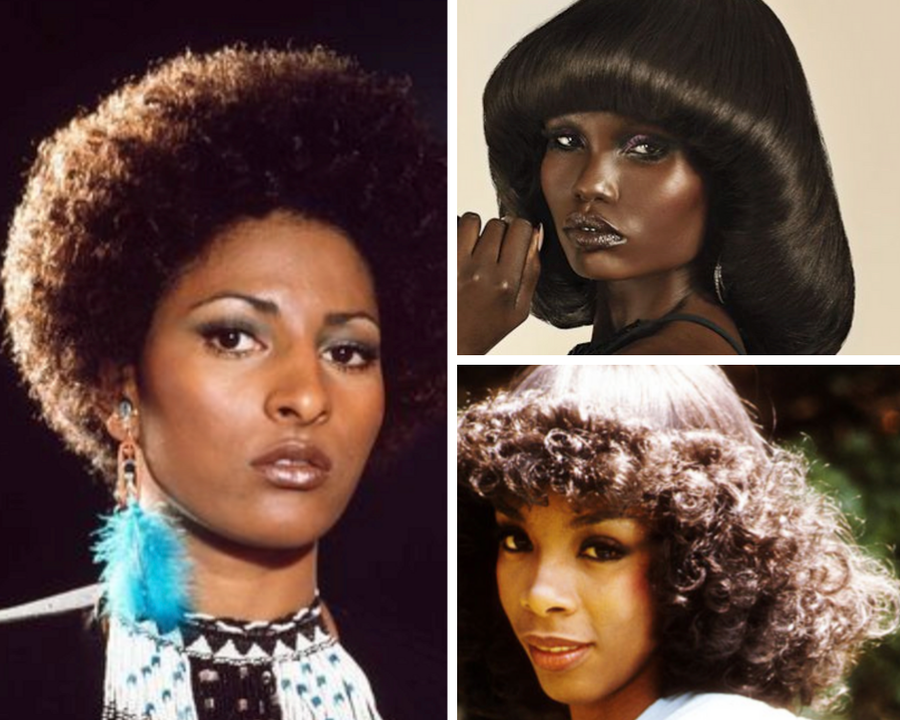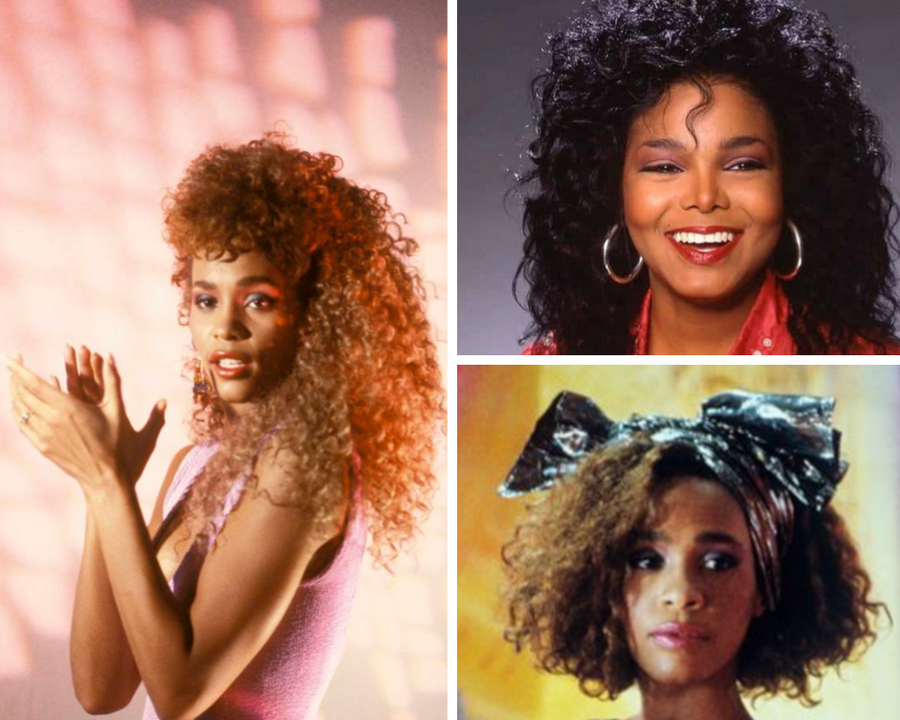 80's- Purple Rain
The 80's is where things got funky. It was business in the front and party in the back. We're no stranger to the juicy jheri curls either. Girl, you know you tried it! Curly bangs then were very different from our curly bangs today. Ooohh, this was a crazy decade for hair.
90's- Poetic Justice
Bandanas, braids, and baddies-- that was the 90's in a nutshell. Box braids are classic and soo pretty. It's a cultural stamp, but not to be confused with "boxer braids"...whatever that is.
Straight hair was in, too. Women were rocking a sleek style with that bandana and serving us edginess all day.
Oh, and we're here for this bowl-cut bob on Halle. Do you remember what movie she had this cut in? I'll give you a hint: it always comes back.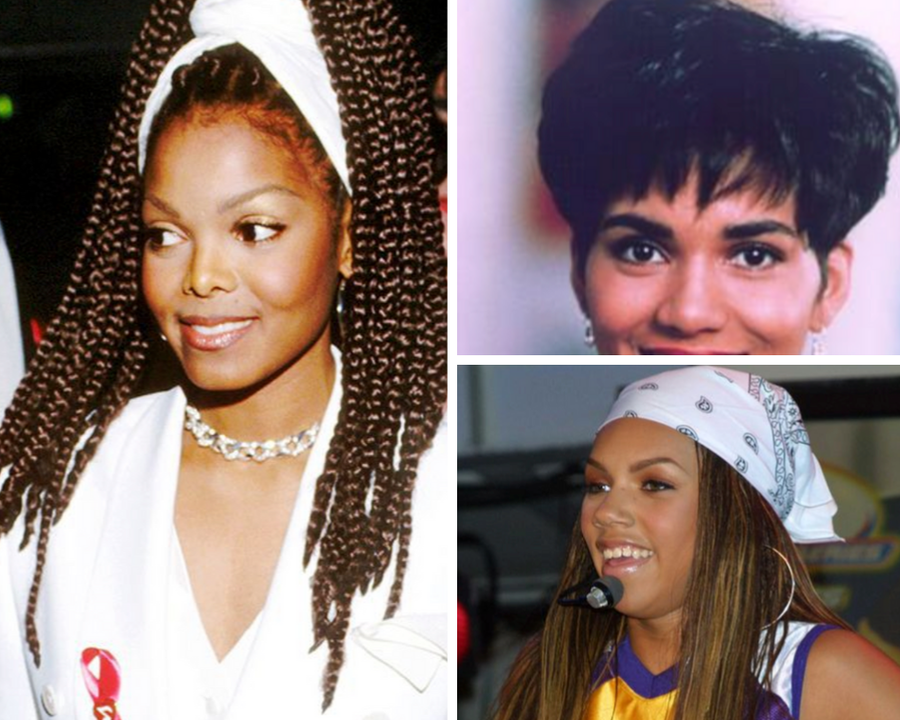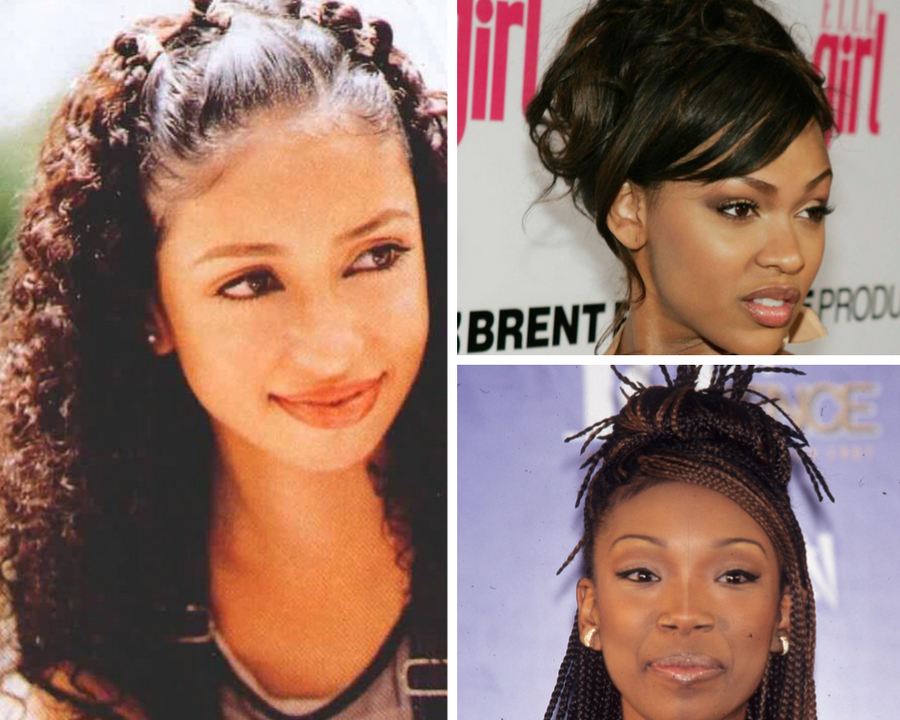 00's- It's Getting Hot in Here
Heading into the 2000's we were all about the bang swoop and spikey hair. As you can see Brandy had the perfect fringe to bun ratio. Whether it was braids or chopsticks, we were always adding an outward feature to a bun. From twists to funky buns, to sleek and short the 00's weren't totally a miss. 
Today- Do it for the Gram
Protective styles are always a great solution. The 90's were all about the Box braids and although we still love them, we have a new protective style taking over IG feeds all over the world--Passion Twists! Blonde fades, and space buns have never been more in style, and you can't go wrong with an intricate braid style with hair charms, which is specific to this decade. Turn up the metallics!  
And of course, that wash n' go is our favorite over here. In our humble opinion the wash n' go has really made its appearance this decade. The natural hair trend couldn't be a healthier option for the black community for so many reasons! We exist to help your hair reach its healthiest potential and most defined curls of yo life, hunty! Snatch up that Hello Gorgeous System to get with the times and stay in this decade.