4 SIGNS YOUR SCALPS NEEDS EXTRA LOVE AND HOW TO KEEP IT HEALTHY

So you've been doing a great job with your hair routine, thoroughly cleansing your scalp and tresses with just enough love to get by. You're conditioning and moisturizing as you should, staying away from too much heat, and also feeding your follicles enough nutrients to stay alive.
Kudos to you sis!
But honey, if you had to grade the condition of your scalp, will it hit 100%? Or are there subtle scalp issues we still need to take a peek at? Is your hair growing healthy? Or are you exhausted from trying to give it some shine and luster?

Maybe – just maybe – you really cannot tell if your scalp is healthy or not. Good thing you're here! Today we're sharing 4 telltales that you need to give your scalp some TLC.
Excessively Oily or
Excessively Dry Scalp
Surprised? Well, here's more. I know you purchased that 'expensive shampoo' because you love your hair and want the best for it. But sweetie, the sulfate in that pretty bottle is doing your scalp a lot of damage!
It strips your scalp of its natural oils, causing your sebaceous glands to frantically try to replenish. Consequently, you end up with either more oil than what weekly shampooing can handle, or your glands just tire out altogether and stop producing enough to prevent dry, itchy scalp.
To deal with this, go for healthier products with natural ingredients. Our Moroccan Rhassoul 5-in-1 Clay Treatment (Step 1) is the perfect cleanser to use for this. Rhassoul clay is effective at washing away buildup and removing toxins other shampoos can't get rid of. PLUS, it infuses moisture into your scalp and hair as it works!
Sorry to break this to you, but if your hair looks really dull and drab, it might be because you're not intimate  enough with your scalp, boo!
When you fail to show your scalp that extra dose of affection, things like dirt, dead skin, pollutants, and hair products do so for you – except they build up on your scalp. And once those layers start to form, you can wave goodbye to shiny hair until you've kicked them right out!
As you do not forget to regularly exfoliate your skin, do not also forget to clean up your scalp. Use a pH balancing shampoo to clean up your scalp and make room for your follicles to get enough fresh air for radiant and lively strands to flourish.
You may not believe this sis, but frequent itchiness on your scalp is a sign that you need to pay more attention to it.
Scalp itchiness can either be an allergy, can be caused by dryness or buildup or it could be some unpleasant medical condition. Lucky you, an extra side dish of love is usually all your scalp needs to stop itching.

Start with an Apple Cider Vinegar rinse to clarify your scalp.
You can also use our Moisture Infusion Styling Créme (Step 2) directly on your scalp to relieve itchiness. Literally, part your hair and apply Step 2 directly to the scalp.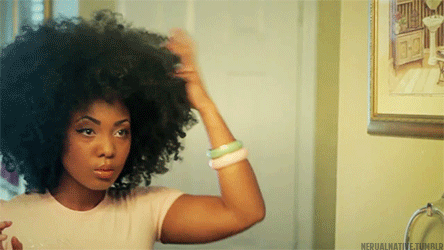 You probably noticed this sign first because hair length is one thing most queens are after.
It's also a good thing that stunted hair growth is easily noticeable because it is also a huge pointer to an attention-starved scalp.
Compromised hair shaft, dryness, protein problems, dandruff, and product buildup are a few causes of stunted hair growth. And yes, they all have to do with your scalp.
Hair grows, on average ½ inch per month. But it can't grow at that rate if the pores of your scalp are clogged.
When you wash weekly, make sure you are focusing on your scalp and not just your strands of hair.
If none of these tips work, then it's probably time to check in with your dermatologist. There are a lot of medical scalp conditions people don't know about or realize they have. And you likely won't be able to fix these issues just by changing products.

Make an appointment with your doctor to get the issue cleared up.