Love On Your Vacation Skin
So... the world is continuing to "open up," and you've got big trips and little bikinis in your near future. 
Get em, girrrl!
I'm excited for you, and I'm looking forward to seeing those vacation pictures in the Naturalicous Nation Facebook group. 
But... first, let's chat about caring for your BEAUTIFUL melanated skin while you're away on vacation. 
Oh, yes, sweetie, your melanin requires some planning ahead. 
You cannot just wing this thang.  
What Happens At Home Does NOT Stay At Home!
Sis, you've been loving on that good-good melanated skin for ages.  Caressing it, exfoliating it, moisturizing it, and then some. 
And you've been seeing great results. 
The sensual, sexy, silky smoothness looks AWESOME ON YOU! 
Don't let a little three, five, or seven-day trip get you off track. 
The routine you've been flexing at home to care for your skin wants to come with you too. 
Let's get into it!
A Good Soap - You don't skip showering just because you're on vacation, right? You should be fresh and clean whether you're three or 3,000  miles away from home.
Listen, hotel soap just doesn't cut it, even when it's from a five-star location. It's no secret that they don't clean or moisturize well.
When it comes to cleaning your skin on vacation, why not do it with the most luxurious whipped soap ever? Use any of our Whipped Soaps Fantasy items, so your skin can smell good, feel good, AND look good. 

A Good Moisturizer - One that penetrates your skin and quenches any thirst it might have, and locks in that moisture for hours.
Honey, you'll be out shopping, doing random photoshoots, maybe even getting your groove back (I'm not judging!), so you won't have time to keep reapplying lotion.
Ahem... our Bangin' Body Moisture Rich Lotion improves your texture, elasticity, and juiciness, AND it's a silky, smooth, sensational experience. 

A Good Exfoliator - Wheeeew! Lots of people overlook the importance of exfoliation on vacation. Yes, you need to do it at home, on a work trip to San Diego, and in lovely Lagos too. 
Our Bangin' Body Brown Sugar Body Polish uses sugar as a non-drying exfoliator to deliver unrivaled soft skin. It's perfect for removing the pool, ocean, and sand grime. 
Sunscreen - If you're traveling to a place where the sun will be shining bright like a diamond, you'll want to add a good sunscreen to your travel bag too. Make sure it's the last thing you put on to ensure your skin is protected. 
At this time, we don't carry sunscreen, but don't sleep on us. We're always in the kitchen cooking up new ways to serve the Naturalicious queens.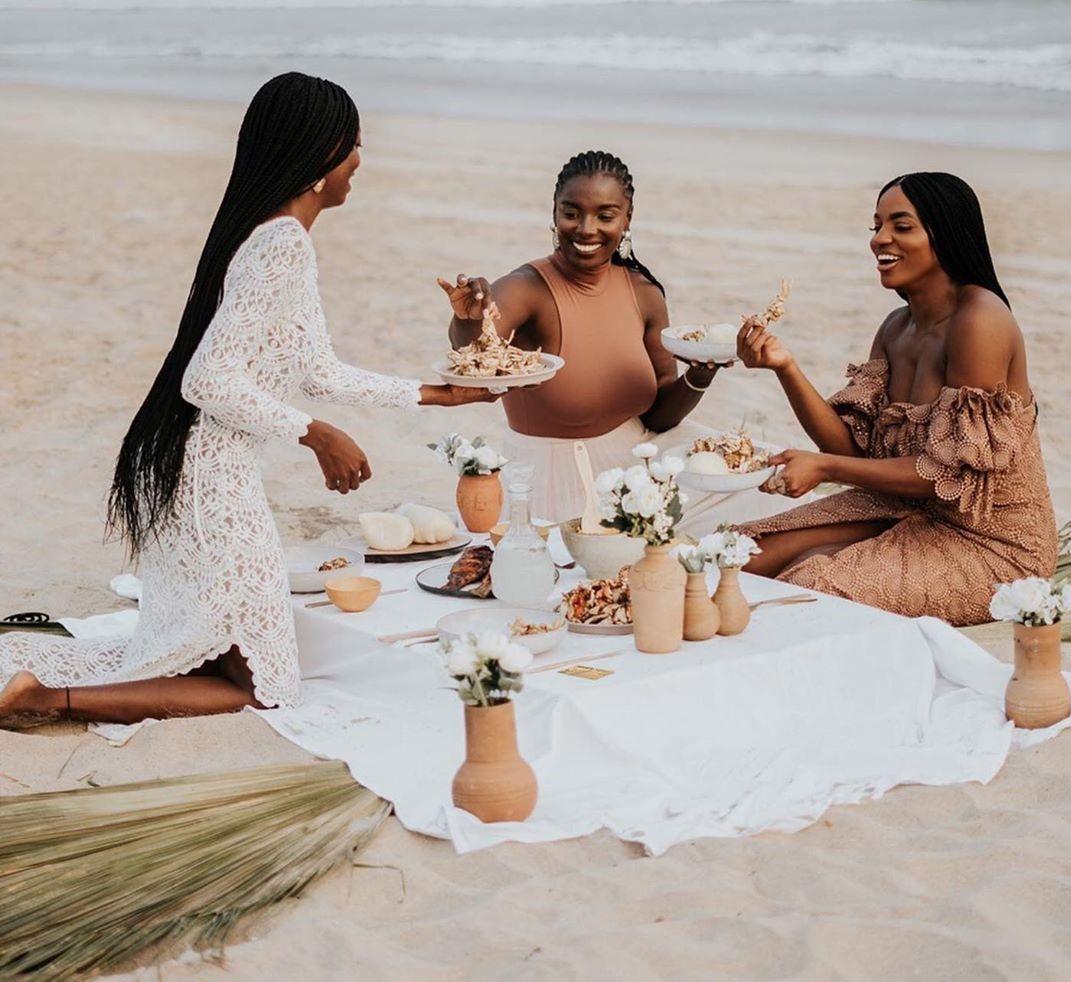 Queen, you're planning a much-needed vacation to rest your mind, body, and soul (or maybe you've got secret turn-up plans. Ayyy!)...

Your skin can't afford to be loved on any less just because you're zip code changed.
Plan ahead for your skin, too.
Leave as a royal...
But come back as a well-rested, new memories-having, (hopefully, sunkissed) royal!
Click HERE to shop the entire Naturalcious body care line. 
And be sure to check out our Deluxe Travel Set for your vacation haircare needs. 
- Gwen Jimmere