HOW TO START YOUR CURLY HAIR JOURNEY: THE SECRETS TO SUCCESS
So you've decided it's time to start your curly hair journey. We LOVE to hear that!
Transitioning to natural curls is the perfect way to let your beauty shine through. 
That's why a lot of sisters find that this is an emotional, even spiritual journey, not just a physical or stylistic journey. It's all about becoming the gorgeous version of you that you were born to be!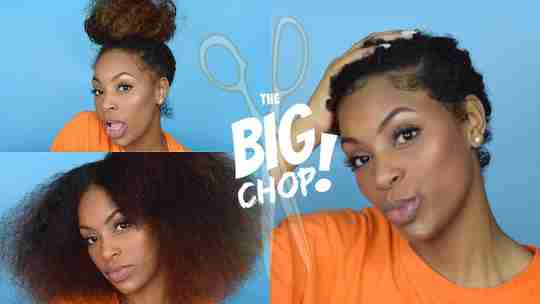 Taking this journey is less dramatic than The Big Chop... but the decision still probably wasn't easy. You may have experienced the full roller coaster of emotions: from excitement to fear, to joy to anxiety. You may have even worried about what other people will say. 
But now that you're here, you can be confident that remorse is a feeling you won't have to deal with. 
Now, this article is going to be a basic walkthrough of how to kick off your curly hair journey the right way. You'll learn everything you need to know, plus you'll get links to resources where you can dive even deeper.
Taking care of your crown-in-transition isn't as difficult as you may think!
The first thing you need to do is to create a routine. 
Consistency is critical for keeping your hair healthy. And as you're transitioning from relaxed to natural hair, you really want to give your new growth the attention it needs to thrive. 
Just remember, nobody's perfect. Don't beat yourself up if you mess up here and there. Dust yourself off and try again. 
Another reason it's important to stick to routine so you can establish new habits. The routine that worked for you in the past isn't the routine you want to carry into your new life as a budding naturalista. 
It's a good idea to keep your routine simple. Here's what we recommend:
Every 7-10 days, it's wash day.

You can check out a detailed video breakdown of the exact wash day routine Naturalicious founder & CEO Gwen Jimmere uses and recommends to others.


Make sure you're doing your deep conditioning every wash day for best results. You may be tempted, but don't skip this!
We recommend doing a hot oil treatment at least once a month. Really, it makes sense to do this every wash day, too, for best results.


Once a month, you'll want to do an apple cider vinegar rinse (keep reading for more info on that).
Once a month, you should also do a protein treatment. Most people don't do this often enough. You're not going to be one of them!
Naturalicious provides a simple system that takes care of everything you need to do in 3 steps – actually 4 steps if you start by throwing out your old hair products:
You'll need Moroccan Rhassoul 5-in-1 Clay Treatment (Step 1) which is a:


Detoxifying cleanser 
Smoothing conditioner
Calming detangler
Deep conditioner to fortify & strengthen every strand of hair
Lasting conditioning treatment


Moroccan Rhassoul 5-in-1 Clay Treatment's patented formula is the first (and at this point, the only) natural hair product with a patent held by an African American.
Rhassoul clay removes toxins and bacteria while clarifying hair and scalp. It also infuses moisture to nourish your hair… without the sulfates and other harmful products most store-bought products have.
Step 1 has been called "the GOAT" that makes ladies love wash days. Because this is a 5-in-1 product, your wash days are already faster and less stressful than ever. In fact, you may start calling your wash day your "wash minutes."  
Once you're done washing your hair, you'll need Moisture Infusion Styling Creme (Step 2). Loaded with sunflower oil, shea butter, and vitamin E, Step 2 naturally moisturizes and protects your hair from split ends, shedding, heat damage, and more. 
You get curls that are naturally defined & healthy – and styles that last a whole lot longer.
Divine Shine Moisture Lock & Frizz Fighter (Step 3)comes next. You can use Divine Shine as a super light hot oil treatment that nourishes your hair and scalp. It can even help you grow new natural curls faster by stimulating blood flow to the scalp.
#Claymate Danielle S. had this to say about Step 3: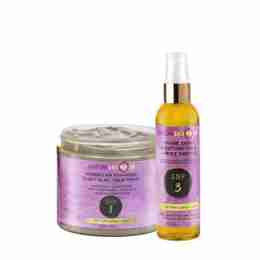 You can use Steps 1 and 3 together for a BOMB deep conditioning treatment.
Do it every week for best results.
On your first wash day of your curly journey, it's a great idea to rinse your hair with diluted apple cider vinegar (ACV). The best ratio is 1 part ACV to 6 parts water. 
Over time, everyone's hair accumulates buildup – from product, from the environment, etc. – and that makes it hard for these phenomenal products to penetrate your hair and deliver the good stuff it needs. You may not be able to see the buildup, but it's there. 
ACV breaks down that buildup and rinses it away so your hair and scalp can get truly clean… and they can get the full benefits of your hair care routine.
Again, you're going to want to do this on your first wash day as a naturally curly boss babe, then do it again once a month. No more, no less.
This article has been long, but believe me, your wash days are going to be so short you won't be able to believe it. 
The other once-a-month part of your routine is your protein treatment. You probably already know that protein is an essential part of hair care… because hair is made of protein. Having enough protein is important to ensure your hair is healthy, strong and beautiful. 
You already get protein internally through your diet, but it's helpful to supplement that with protein treatments. There are countless protein products on the market, but we recommend keeping it simple (and cheap): you can use a plain ol' egg instead!
We want to support you on this journey! Get into the community and come get your life! Gwen and the Naturalicious sisterhood help you go from wack to looking like a snack in just 15 days!
Want proof? Peep these before and after pics!
Honestly, this is probably the perfect time for you  to take the challenge – so you can get all the knowledge, tools and products you need at the very beginning of your natural hair journey. You'll also meet a community of queens making the same kinds of moves. You'll meet amazing women who will inspire and empower you to press ahead to the curl-poppin promised land.
And if you're not already a member, we encourage you to join the Naturalicious Nation Facebook group, regardless of whether or not you're ready to jump into the Repair Your Hair Challenge.

And don't forget to use Heavenly Hydration Grapeseed Mist instead of other products for your daily moisturizing.  
As you're growing your new natural curls, your hair may need a little extra help, especially close to where the treated hair ends and new growth begins. Heavenly Hydration contains grapeseed oil, which conditions hair, seals in moisture and assists with hair growth… and avocado oil which contains antioxidants to protect each strand from the damage. It's perfect to keep your hair shiny and fresh between wash days.
Don't forget to stock up on staples like a bonnet, a silk pillowcase and scarf, and our g to prevent breakage and frizz along the way. They'll help make sure friction doesn't undo all the work you're putting in. 
If you'd like more personalized, one-on-one guidance, the absolute best thing you can do is register for the Repair Your Hair Challenge.